New Minister for Eaglesham ChurchPublished 13 Sep 2021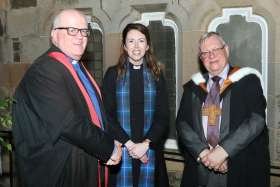 The Reverend Jade Ableitner is the new Minister of Eaglesham Church of Scotland. Jade was inducted at a special service last week.
Jade is originally from Holytown and is married to Eric. Their son Fred was born just four days before we all went into lockdown last March. A German Shepherd called Gus completes the family.
Jade has been a student minister for six years and spent time in Germany as a probationary minister. She said, "I am feeling so excited about beginning my ministry at Eaglesham Parish Church. I go forward in the assurance that I serve a loving and faithful God who will equip as we share the good news of a life-changing love, available to all, found through Christ. I can't wait to be part of the community and share that love."
Ends
Photo Caption – (Left to Right) Rev Dr John McPake (Interim Moderator), Rev Jade Ableitner, Robert Hynd (Moderator, Presbytery of Glasgow).