Padlets - a resource to equip & support your children, family and youth ministry. Published 01 Feb 2023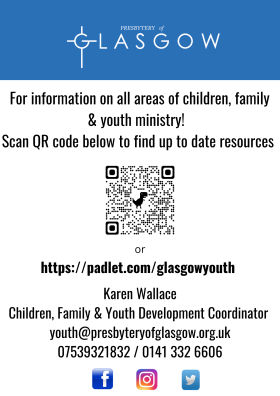 What is Padlet and How Does It Work?
Padlet takes the idea of the notice board and makes it digital. This online notice board give you the space to share links, documents, resources and ideas in an easy way.
Unlike a physical notice board, this space can be populated with website resources, videos and links and not be filled with out of information. All that and it's instantly updated for anyone sharing the space to see right away.
In my role as Children, Family & Youth Development Coordinator, I have created a number of Padlets to support your children, family and youth ministry. If you find an area where a Padlet would be of benefit just let me know!
I hope you find these Padlets useful to you and your ministry!
Here is the link: https://padlet.com/glasgowyouth?fbclid=IwAR1opVGL-zIWDeUBqbtkGXuNkxBAF2Dwn0__J854goy_jJGmYq5DC1OzkEk
If you open the attatched image you will also find a QR code that you can scan. My contact details are also on this image if you would like more information, training or support.
Blessings,
Karen