Resources for Ukraine Published 18 Mar 2022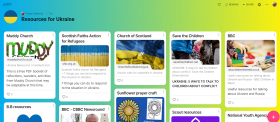 Hello everyone!
Last year I found a resource that was able to share information and resources in an easy way. This resource is called a Padlet. On the Children, Youth and Families page you will find on the blog dated 25th June 2021 - What is a Padlet. On this blog you will find lots of different links to different Padlets that have lots of resources and information on many areas of children, youth and family ministry.
The newest Padlet I have created is one on Resources for Ukraine. On this Padlet you will find craft, prayer and discussion resources that you can use with the children, young people and families you work alongside. As I find more resources I will add them to the Padlet, so keep checking the link as it will update automatically.
The link for this Padlet is: https://padlet.com/glasgowyouth/kfeclt36zjla7ufh
I hope some of these resources will help you as you chat, discuss, pray and find a way of responding to the situation in Ukraine.
John 16:33 "I have told you these things, so that in me you may have peace. In this world you will have trouble. But take heart! I have overcome the world."
Blessings,
Karen