Peace I leave with you; my peace I give you. I do not give to you as the world gives. Do not let your hearts be troubled and do not be afraid. John 14:28Published 08 Apr 2020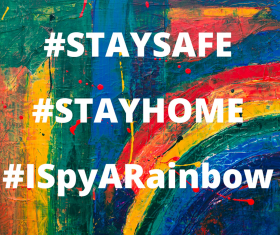 Peace I leave with you; my peace I give you. I do not give to you as the world gives. Do not let your hearts be troubled and do not be afraid. John 14:28
At this moment we are living in a challenging time. COVID-19 has spread through the world, affecting everyone in its path.
Restaurants and cafés have closed, theatres have lowered their curtains, non-essential shops have closed, schools have closed their gates, and exams are cancelled for the first time in history!
Families are adapting to parents working from home, or being on furlough. Children are trying to understand why their mum is teaching them at the kitchen table, and dogs have no idea why they are going on so many walks!
It is no surprise to anyone that many of us are struggling with life just now. Nor are we sure when this is all going to end. When we will be able to walk into a shop without queuing or wait at a bus stop for the bus to work? I am strangely missing my commute to the office on the bus!
People are understandingly worried about family, friends and colleagues. Questions I have been asking a lot recently include - How are you? How are you feeling today? Are you coping just now? We all need to look after each other right now and make sure we are all okay!
Many things can help us through this time. When we look to scripture, it tells us that 'we can cast all our anxiety on him, because he cares for you.' 1 Peter 5:7. God is present in all of this and will be there to support us and carry us through all of this. Many terrible and sad things are happening just now and we can ask God to be 'our refuge and strength, and be an ever-present help in trouble.' Psalm 46:1
As I have been reading scripture during this time, two verses have stood out to me from 1 John 4:7-8. 'Dear friends, let us love one another, for love comes from God. Everyone who loves has been born of God and knows God. Whoever does not love does not know God, because God is love.'
I have seen this passage in action all across my neighbourhood, Glasgow, Scotland, and even the world! When I am out on my daily walk around the streets where I live, I see many rainbows on people's living room windows. The sign of hope. I love how the image that has been used worldwide is the Christian symbol of hope!
One other sign of hope is seeing that the church is still very much open, even when the buildings have closed their doors. People are finding new ways to gather and worship together. After meeting with CoSY (Church of Scotland Youth) Glasgow at the beginning of the month, it was great to hear of all the different worship experiences they had all had by being at church 3 or 4 times one Sunday! As it was all online, they were able to worship all day and even through the week too. Ministers have reported that more people 'attended' their online worship services than attend on a Sunday morning! We are finding new ways to 'be church' and even though it may not look like our traditional church, it is still church!
My hopes and prayers are that we don't go backwards, but instead go forward and continue to find ways of being church so that when our building are open once again we will continue to meet people where they are.
Blessings,
Karen