Good News!Published 10 Dec 2020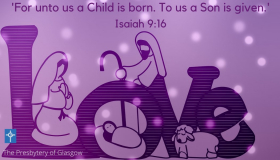 For the first time in over 9 months I switched on my TV to catch up with the news to hear Good News! Actual Good news for a change! It was 'V' Day! Vaccination Day! A 90 year old Grandmother in Coventry was the first person in the world to receive the COVID-19 vaccine!
This year good news has been scarce. Every time you open a newspaper or listen to the news it is filled with sadness, suffering, despair, anger and confusion. There is devastating news in relation to the global pandemic, the Presidential election in the USA and in the last few weeks, Brexit talks are back in the news. We've had lots of rules and regulations as to what we can't do and where we can't go. Hospitality sectors, the theatres and the arts closed and families only contact has been online once everyone had worked out how to use Zoom or FaceTime! Life in 2020 has been very different; and even with the vaccine it's going to take a long time before the world gets back to 'normal.'
But, I bet if you think about it, throughout this year you will have had good news more times than you remember. What small or big things have brought you joy? For example, today I am writing this wearing my Christmas jumper! A small thing, but today it has made me smile! I am able to work effectively from home, I am grateful and thankful for this and the technology that has enabled me to still communicate with the congregations within the Presbytery. I believe good news is actually all around, we just need to look for it!
In Luke 2 v 10 we read:
'but the angel said to them, "Do not be afraid! I am here with good news for you, which will bring great joy to all the people. This very day in David's town your Saviour was – Christ the Lord!"
Good news was delivered to the shepherds on the fields all those years ago, proclaiming the good news of the birth of our Saviour .All through the years we still hear the good news of Christ. His love and care for us, even through times of challenge and difficulty.
This Christmas it will be different. However, the message of the good news still is relevant today as it was that first Christmas. Jesus is the reason for the season! Jesus is the GOOD NEWS we are sharing with our communities, our friends and our families.
'Yes, Lord we greet thee,
Born this happy morning,
Jesus, to you be glory given
Word of the father
Now in flesh appearing
O come let us adore Him, Christ the Lord!'
I wish you the love of Christ this Christmas time, that it fills your home and life with good news and you know His blessings each and every day.
Karen – Children, Family & Youth Development Coordinator