St Andrew's Day ServicePublished 17 Nov 2023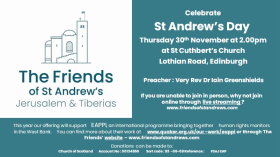 The annual St Andrew's Day Service, organised by The Friends of St Andrew's Jerusalem & Tiberias, will be held on Thursday 30th November.
The Service will be held in St Cuthbert's Church, Lothian Road, Edinburgh, at 2.pm, the preacher being the recently retired Moderator, Very Rev Dr Iain Greenshields. Rev Dr Stewart Gillan and Rev Muriel Pearson, Ministers in Jerusalem and Tiberias will participate; music being provided by Morley Whitehead (organist) and Caroline Trutz (soloist). Refreshments will be available following the service, along with an opportunity to support Hadeel.
Naturally we will welcome as many as are able to join us, but for those whose preference is to participate through live-streaming. The link is https://www.youtube.com/watch?v=Bmg5Ljo-Huk (and details are also available on our website or Facebook page).