Rev Dr Grant BarclayPublished 22 Jan 2021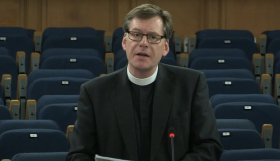 On Monday 25th January we welcome Rev Dr Grant Barclay to the Presbytery office as our Interim Presbytery Clerk.
We ask that you include him and his wife Karen in your prayers as they transition into this new role. We pray for Grant as he gets to know his new role within Presbytery and all that it may hold.
We thank God for his years of service in his previous congregations and pray for God's guidance on them as they move into this period of transition.
We also give thanks for Bill & Graham who have supported work of the Presbytery during this time. As always we continue to send our prayers and good wishes to George.
The Presbytery staff team look forward to welcoming Grant on Monday and working alongside him.