Presbytery welcomes Archbishop NolanPublished 29 Apr 2022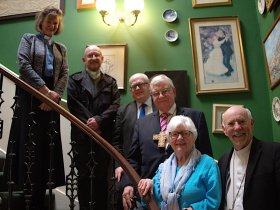 The Presbytery welcomed Rt Rev Bill Nolan as Archbishop of Glasgow at an informal lunch this week, which coincided with the publication of the Declaration of Friendship signed between the two churches.
Rev Dr Grant Barclay, Interim Clerk of Glasgow Presbytery said, "We were privileged to be present at the Archbishop's installation and are delighted to welcome him among us in Glasgow. Our churches share much in common and we look forward to developing many existing partnerships in coming years as well as creating new opportunities to witness to Christ together."
Ends
Caption - Rev Hilary McDougall (Depute Clerk, Presbytery of Glasgow); Fr David Wallace; Rev Dr John McPake; Robert Hynd (Moderator, Presbytery of Glasgow); Elspeth Glasgow (Glasgow Churches Together); Rt Rev Bill Nolan, Archbishop of Glasgow.