'Peacemakers' at Kelvinside HillheadPublished 10 Nov 2023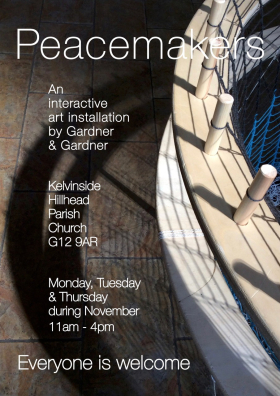 Artists Gardner & Gardner have brought 'Peacemakers' to Kelvinside Hillhead Parish Church and you would be welcome to join Peter & Heidi in walking the loom on Mondays, Tuesdays & Thursdays during November, between 11am & 4pm. The interactive installation, 'Peacemakers' is a circular, wooden French knitting loom, 181cm in diameter, designed and fabricated by Gardner & Gardner.
Its genesis grew out of a sense of helplessness in the face of the Russian annexation of Crimea in 2014 and the work of 'Peacemakers' has continued ever since. Bringing together elements of contemporary art practice, craftivism and Christian spiritual accompaniment, 'Peacemakers' focusses on peacemaking at a personal and relational level, as a response to the conflict we encounter within our lives and the wider world. It has been hosted by many communities throughout the UK and has taken on a new urgency in response to these troubled times.
The installation offers a quiet, hospitable space, where visitors are invited to join the artists in the repetitive, contemplative, simple action of knitting on the loom and making peace through the sharing of many small actions and kind words.
Everyone is welcome…
Artists' Bio.
Gardner & Gardner are a husband-and-wife visual artist duo, based in The Briggait, Glasgow. Coming from different disciplines – Heidi from History of Art, Peter from Theology – they have built up over two decades a contemporary art practice in temporary, site-specific installations and interventions, often set within the context of worshipping communities and their buildings. They combine this art practice with Peter's role as Pioneer Minister to the visual art communities of Glasgow.