Moderator's Musings - November 2023Published 07 Nov 2023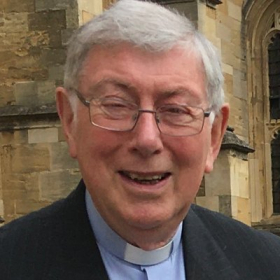 Moderator's Musings
November 2023
Dear Friends
One of the privileges of being Moderator of Glasgow Presbytery is the opportunity to visit projects and attend meetings that are both encouraging and challenging. In the last two months I have attended the homeless service at the Lodging House mission (LHM), the opening of the Well's new premises in the south side of Glasgow and more recently, the Festival for Survival at Adelaide Place Baptist church.
The LHM service was addressed by the Moderator Rt. Rev. Sally Foster Fulton and she took the opportunity to meet with the service users, serve them meals and generally to acquaint herself with the day to day activities of the LHM. Everyone was delighted and encouraged by her visit and her little dog almost stole her limelight!
Niddrie road in the south side of Glasgow is the site of the new premises for the Well. The project now has new, specifically designed ground floor premises with interview rooms, a large welcoming space and a modern kitchen. Volunteers come from all Christian denominations to help with providing advice and services to the Asian community and asylum seekers. The Clerk (Grant Barclay) and I had a tour of the premises given by Rhoda the centre manager and we also chatted with the Rev. William Wilson chair of the board of management. I said a few words on behalf of Presbytery and reflected on the importance of wells in the bible – the Samaritan woman's encounter with Jesus at a well and also Isaac, the great well builder, mentioned in Genesis 26. Both Grant and I were highly impressed with what we saw and heard during our visit.
I must confess that I have never attended a Festival for Survival and so I was pleased to be invited to attend the one held at Adelaide Place Baptist Church on Saturday Nov 4th. The Archbishop of Glasgow (Bill Nolan) was also present and we were both invited to address the plenary session after three MSPs had spoken. The three main topics of concern for the day were Nuclear disarmament, Climate change and Biodiversity. The event was very well attended and I was somewhat apprehensive as to how to speak to these topics from a Christian perspective. Three bible passages came to mind: God's call to Adam and Eve to be stewards of creation in Genesis 1:27,28; Isaiah's promise in Isaiah 58:10-12 that if we share resources then all things can be repaired; and finally Mark 12:30,31 where Jesus highlights the great commandment to first love God and then our neighbour as ourselves. You cannot be a good neighbour and threaten them with nuclear weapons!
Being Moderator certainly gets one into challenging situations and I am grateful for your support and prayers.
Every blessing,
Roger Sturrock