Helping the People of UkrainePublished 27 Apr 2022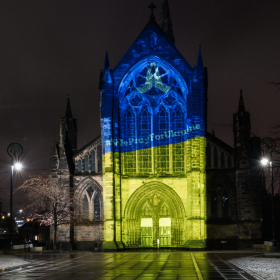 Greenbank Parish Church has raised over £8,000 for the Church of Scotland's Ukraine Appeal. The sum is made up of donations from members and the proceeds of a coffee morning as well as a donation from Greenbank's own Crisis Fund.
Queens Park Govanhill Parish Church is hosting a Coffee, Cakes and Crafts afternoon this Saturday from 2pm to 4pm. Funds raised will go to support both the local community and those affected by the Ukraine crisis.
A Concert for Ukraine held last weekend at Glasgow Cathedral raised over £1,000 for the people of Ukraine. Students from the Royal Conservatoire of Scotland played a programme of music by Ukrainian composers and Robert Hynd, Moderator of the Presbytery of Glasgow, led a period of reflection and prayer. You can watch the concert online at https://www.glasgowcathedral.org/concert-for-the-ukraine-live-broadcast
For more information on the Church of Scotland's response to the Ukraine crisis, please go to https://www.churchofscotland.org.uk/resources/the-church-response-to-the-ukraine-crisis