Greetings from Hyderabad - June 2020Published 24 Jun 2020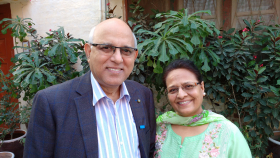 Greetings of peace and love of God from Diocese of Hyderabad !
We very much keep our brothers and sisters of Glasgow Presbytery in our prayers. This pandemic has hugely affected the whole world. One can see effects of this damage in the economy of the countries, social and religious life of the people. These damaging effects will remain for a very long time in the post pandemic period. We all need to prayer for each and get closer to God and become decent human beings.
Our country is being affected by this Virus very rapidly because of the carelessness of the public. Nobody knows what will be the actual scale of damage. Everybody has to be responsible and play their role sensibly.
140000 people are affected by Coronavirus and 2632 people have been killed so far. It is not a big number as compared to some of the countries of the world but it can increase rapidly to any extent.
The effects of lockdown because of Coronavirus are very vivid on our country's economy. The schools are still closed which has created huge liability on us. Our two hospitals are also struggling.
It has been now three weeks that government allowed us to open our churches for worship. There aren't many people who are willing to come for worship in the church. They are afraid of the Virus and have to follow the strict rules for attending any gathering, even a worship service. Members of the churches are not able to play their full role towards raising funds for the running of the churches. It puts pressure on Diocese to manage the salaries of Clergy and to run the main Office of the Diocese and other supporting staff.
We are trying to manage so far with our own limited resources and the help of some funding from one of our overseas Partners. In the long run this situation may get worse because of damage of Covid19 and its post period.
Please keep us in your prayers that may God provide us with what we really need for our survival.
My office staff is extremely busy with their work in this unusual circumstances. We are doing routine work and busy with our response to Covid19. We are trying to get some funds from different sources to meet the needs of people who are affected by Lockdown. This extra workload has made Ashley extremely busy. I genuinely appreciate his commitment and hard work for smooth running of the diocesan affairs and management.
Please convey our best wishes and greetings to all those who know us or whom we have met or who have visited us in the past.
Stay blessed and safe forever,
Bishop Kaleem John
Hyderabad
Pakistan.