Greetings from diocese of Hyderabad May 2020Published 08 May 2020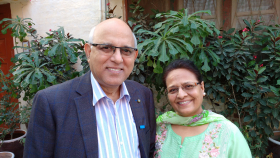 Greetings from diocese of Hyderabad !
We do pray for the whole UK and for Glasgow Presbytery in particular. The whole world is suffering from this deadly Virus. Some of the countries have suffered more than other countries. When we hear about the average death rate of USA and of some other countries; we feel sorry for this death toll. We pray that may God have mercy on these countries and help those countries to overcome this Virus.
Situation in Pakistan is not very bad at the moment but some of the provincial governments are very concerned and have taken very wise and strict steps to stop the spreading of Coronavirus. Unfortunately the federal government … have never agreed to the decisions of our Sindh government. Therefore, there is a big confrontation between these two governments.
The recent figure of Coronavirus patients are more than 20 thousand and 476 patients have died so far. There is a big danger that there will a peak of patients and deaths towards the end of May. Let's pray that there are less deaths as a result of this peak.
Not only the country but we as diocese have also suffered a lot as result of lockdown in the province. Our churches are closed for any worship and religious gatherings. As a result we are not able to get any offerings and donations from church members. We are also not able to receive any income from our resources like properties and etc.
We are also using the facilities of modern technology of Facebook and WhatsApp to offer Sunday services and spiritual support throughout the week.
I had to take big loan from one of our overseas partners to provide salaries to all the diocesan employees which includes both clergy and non-clergy. It is a big burden on our diocese but I had no other option. People can't survive without salary. I have given salaries for the month of March and April. I hope to give salary for May as well. I am still struggling and in the process of making arrangements. After May, I won't be able to provide salaries if the situation of lockdown in my province continues. Please remember me and my diocese in this critical and difficult situation. The impact of Coronavirus is very huge and damaging on the financial condition of my Diocese.
I would like to make a special request to pray for my good health and protection against Coronavirus. If I am protected and have good health then I can continue to lead my people and make efforts to meet their needs.
With every blessing and prayer for your safety.
Bishop Kaleem John
Diocese of Hyderabad
Pakistan