Glasgow the Caring City - Aid to UkrainePublished 23 Jun 2022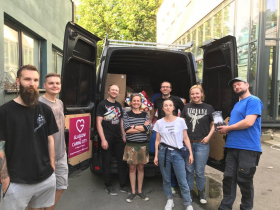 As the grim landmark of day 100 of the invasion of Ukraine has been passed, Glasgow the Caring City would like to thank all supporters of the effort to help those in desperate need whether in Ukraine or fleeing Ukraine.
During those 100 days, Glasgow the Caring City has delivered and managed:
* 206,808 days-worth of food provision
* 350+ tonnes of frontline humanitarian aid
* 14 trucks of aid sent from Scotland to Poland/Ukraine, with a further two on the road at present
* The support of 300+ unaccompanied children from Ukraine in Poland
* A distribution network in 28 areas of Ukraine
In a stark reminder of the danger of providing aid in a warzone, the charity has also suffered the sad loss of 11 volunteers from local partner organisations, killed in action.
Operations Director Ross Galbraith said: "Right back at the beginning of this conflict people rushed to ship aid which wasn't always fit for purpose and created logistical difficulties for organized aid agencies to rapidly respond. Now that level of well-intentioned support has eased off, access routes for customs and logistics have opened up somewhat but the new challenge we face is both the lack of public/corporate donations and the skyrocketing price of moving aid from A to B.
."On behalf of Glasgow the Caring City, I must thank each and every business and person who has supported our efforts during these 100 days and hope we can count on their backing again in the difficult and challenging weeks and months ahead."
If you can help to provide support to Glasgow the Caring City as the charity's support for Ukraine continues, contact Ross via info@glasgowthecaringcity.com
Donations can continue to be made to charity's JustGiving page: www.justgiving.com/campaign/glasgow4ukraine