Glasgow Prison Chaplain RetiresPublished 08 Jun 2022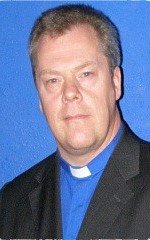 A Glasgow minister has "hung up his keys" after 24 years service as a prison chaplain. Reverend Ian McInnes has been presented with a Governor's Award in Recognition of Outstanding Service by the Governor of HMP Barlinnie.
Ian joined the Prison Chaplaincy Team at Barlinnie on a part time basis in 1998 and over the years has worked closely with both inmates and staff at the prison. He said, "It was a privilege and an honour to serve as a chaplain, to be invited into the narrative of prisoners' lives at what can be an extremely vulnerable time for them and sometimes to be there for them when no-one else is, or so it may seem to them. In a sense prison chaplains have to be as Christ to the offender, to challenge yet not judge, to help them feel accepted by God when they repent though they may have done the unacceptable.
"Working with the Prison Officers was a great privilege too, getting involved in their lives was an honour: conducting weddings and baptising their children. Hearing of their cares, trials and joys too and sharing banter with them, often about football. We often forget about the Prison Officers as they diligently work behind the locked doors of a prison community, it can be extremely testing work for them at times and they should be commended and held in our prayers because they do a tremendous job."
Ian, who is Minister of Dennistoun New Parish Church, says that he is "fair chuffed" to receive the award from the Governor in recognition of his service. He also recalls that his time at Barlinnie was not without humour, "We used to put on concerts for the prisoners and the Glasgow Wind Orchestra would always play the theme from The Great Escape as their closing number!"