CoP 26 - Information and Resources Published 22 Apr 2021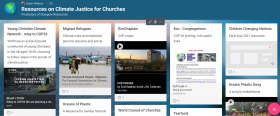 CoP26 - What is it?
The 'twenty sixth conference of the parties to the United Nations Framework Convention on Climate Change' (or CoP26 for short) will take place - Covid restrictions permitting - at the Scottish Event Campus in Glasgow from 1 to 12 November 2021. Since the first CoP in Berlin in 1995 there has been painstaking progress towards international agreement. Getting every country in the world to sign up to life changing commitments is not easy but in Paris in 2015 (CoP21) there was agreement to try to limit global warming to 1.5°Celsius above pre-industrial levels and not to allow it to go above 2°C.
The Presbytery of Glasgow COP26 working group have produced a resource available to all. This resource is called a Padlet. It is filled with information and resources relating to CoP26 and climate justice. These resources can be used within many areas of your congregational life including worship, youth groups and house groups.
This Padlet will be updated regularly with new resources as they are released. So keep checking the Padlet here.