Celebration of Calling Event - Saturday, 4th November in AberdeenPublished 11 Oct 2023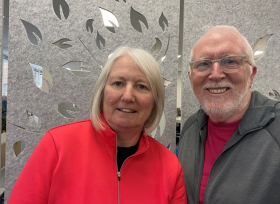 The Church of Scotland's Towards Ministry team is on hand to support anyone who may have even the slightest inkling that God might be calling them to one of the various ministries of the Church, and to service in the broadest sense. Following the success of their first Celebrating Calling event held in August in Hamilton, the team is holding its next one in Aberdeen on the 4th November. With coffee and chat from 10.30am, the day will include short presentations, opportunities to meet with people who have recently come through training and have now started in ministry, and seminars through which information will be offered and questions answered. All that together with worship and prayer and a sandwich and traybake lunch, and a finish by 3pm.
The event will be held in Fountainhall Church at the Cross, Albyn Place, AB10 1YN. You can show up on the day, if making a last minute decision, but you're encouraged to register and you can do that by emailing ministry@churchofscotland.org.uk or by asking for the Towards Ministry Team on 0131 225 5722.
Following the Aberdeen event, the team will be offering a brand-new opportunity: Conversations in Calling online groups. Information about these events is coming shortly.