Your invitation to morePublished 04 Mar 2020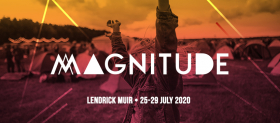 Welcome to March!
Another month has passed and we are now thinking about planning summer holidays and holiday clubs and programmes! So in light of this I have asked Kirsty Haxton the Festival Coordinator for Magnitute to tell us all about the new five-day annual Christian youth festival for young people aged 11-18 in Lendrick Muir. Below you will hear all about what this new youth festival has in store and how you can get involved!
Blessings,
Karen
MAGNITUDE
Magnitude is a five-day annual Christian youth festival for young people aged 11-18. Based in the breathtaking Lendrick Muir near Kinross, it is a week like no other: a space to encounter God, enjoy community and experience nature together.
Magnitude is about seeing young people live out the daily rhythms of trust and closeness with God that characterise this way of life. Empowering them to follow Him, inspiring them to be expectant of what He will do in their lives, encouraging them to be secure in their identity in Him, and enabling them to know a faith that goes beyond knowledge.
We exist to see a generation of young people captivated by the magnitude of who God is and transformed by encountering Him: a movement of young people, thousands strong, who go on to transform their churches, transform their communities, transform their nation and transform the world.
We are Magnitude, an invitation to more.
To find out more, please head to https://magnitude.org.uk/
We would love to see youth groups from all over Scotland come together to get to know each other and to spend time in God's presence. Are there young people in your area who would be interested in connecting with others to form Presbytery of Glasgow group at Magnitude. Would you consider leading that group and providing an opportunity for your young people discover the immeasurably more of God this summer? Check out our Group Leaders Handbook to find out how to bring your youth to Magnitude - https://magnitude.org.uk/booking and get in touch with our team should you wish to discuss this further – Email info@magnitude.org.uk
VOLUNTEER WITH US
Magnitude is a family. And, like any family, it takes lots of people getting stuck in for it to all come together.
That's where we need your help. We couldn't do what we do without an exceptional team of volunteers giving up valuable time to help the event run as smoothly as possible. So, if you are full of energy, skills and passion, willing to get stuck in and want to have all the fun whilst doing it, you'll fit right in!
Whether you have a passion for prayer, some skill with a camera, or a heart for making people feel at home, there are tons of opportunities for you to volunteer with us. Check out the information on our website and sign up to be part of the hands-on, dedicated, can-do team that keeps Magnitude ticking. https://magnitude.org.uk/volunteers
Hope to see you there!
Blessings
Kirsty