Volunteering Action PlanPublished 21 Jun 2022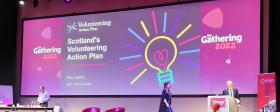 A Volunteering Action Plan for Scotland was launched last week by the Scottish Council for Voluntary Organisations. The aim is to make it easier for people to volunteer more often and throughout their lives.
The Plan is designed both for volunteers and for those organisations which rely on volunteers. It also aims to raise the profile of volunteering and highlight the many benefits it brings.
You can find out more and sign up for regular updates at www.volunteeringactionplan.co.uk