SU Scotland Bible Alive Information EveningPublished 28 Apr 2021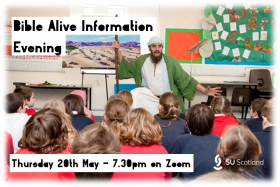 As we look ahead to coming out of lockdown, SU Scotland are very keen to see Bible Alive restarting in more schools next term and also to see new people take it into their local schools.
To help let people know about it, they are going to be running an information evening on Zoom on Thursday 20th May from 7.30-8.30pm.
Bible Alive is a dynamic and interactive programme that takes the whole story of the Bible to children in P5-P7 as part of the RME curriculum. It uses props, costumes, storytelling, music, drama and British Sign Language to bring the Bible to life, and it is used each year in around 70 schools across Scotland.
SU Scotland would love to see it in even more schools, so they are holding an information evening on Thursday 20th May from 7.30-8.30pm on Zoom, which is open to anyone who would like to find out more. The evening will include information about Bible Alive, demonstrations of parts of the lessons, details of the upcoming training courses, and the chance to ask questions.
To find out more about Bible Alive click here and you can book for the information evening here.