Sandyford Henderson Church is a COP hivePublished 08 Nov 2021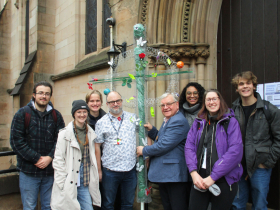 Robert Hynd, Moderator of the Presbytery of Glasgow, today visited Sandyford Henderson Church of Scotland which is a hive of activity during COP 26. As well hosting young people from YWAM (Youth With A Mission) who are doing prayer and mission across Glasgow, the Church is also acting as a base for Christian Aid during COP. .
Robert met with Rev Ben Thorp, Minister of Sandyford Henderson and the young people from YWAM.