Prayer Requests for South SudanPublished 16 Feb 2021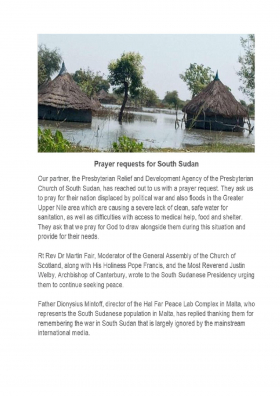 Prayer requess for South Sudan
Our partner, the Presbyterian Relief and Development Agency of the Presbyterian Church of South Sudan, has reached out to us with a prayer request. They ask us to pray for their nation displaced by political war and also floods in the Greater Upper Nile area which are difficulties with access to medical help, food and shelter. They ask that we pray for God to draw alongside them during this situation and provide for their needs.
Rt Rev Dr Martin Fair, Moderator of the General Assembly of the Church of Scotland, along with His Holiness Pope Francis, and the Most Reverend Justin Welby, Archbishop of Canterbury, wrote to the South Sudanese Presidency urging them to continue seeking peace.
Father Dionysius Mintoss, director of the Hal Far Peace Lab Complex in Malta, who represents the South Sudanese population in Malta, has replied thanking them for remembering the war in South Sudan that is largely ignored by the mainstream internation media.