Pioneer Intro coursePublished 23 Sep 2021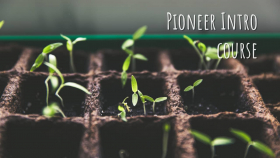 The Pioneer Intro course is a short (6 evening) course which will open up the whole area of Church Planting and Pioneering to you. The course will run on 6 Wednesdays from 7.30-9.30pm at the Renfield Church Centre, Bath Street. The course will start on Wednesday 20th October.
We are looking for three types of people - pioneers - those who are wanting to have a go at starting something new; Permission Givers - those who will act as supporters and enablers to the new; Policy Makers - those on the committees who will be asking "how can we make Pioneering a normal part of church life?".
We would love little teams of up to 3/4 per congregation to come along, although inidividuals will also be welcome. If that is you then sign up for the course on this link.
We look forward to seeing you there.