NEW MODERATOR FOR GLASGOW PRESBYTERYPublished 20 Jul 2021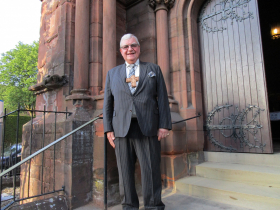 Robert Hynd has taken office as the new Moderator of the Presbytery of Glasgow. Robert is a recently retired solicitor who spent over 40 years in the legal profession in private commercial practice and as an in house lawyer.
Robert is only the second Elder this century to hold the post of Moderator of the Presbytery of Glasgow. He was first ordained Elder at Hyndland Parish Church in 1986 and is currently an Elder at Broomhill Hyndland Church. Robert has served the Church on a number of local and national committees and has been a member of the Presbytery since 2010.
Robert said, "Being Moderator of the Presbytery of Glasgow is not simply the greatest honour of my nearly 35 years in the Eldership – it is among the greatest privileges of my life. I don't think it is a coincidence that I begin my year as Elder Moderator of Glasgow Presbytery just as the General Assembly has also appointed an Elder Moderator, the Right Honourable Baron Wallace of Tankerness – the former Deputy First Minister Jim Wallace.
"My theme for my year, with apologies to Oscar Wilde, is The Importance of Being Elders. Like Lord Wallace, I hope that I can use this year to lead the way in recognising the talents of our Elders and in enabling them to take on increasing responsibilities in the Church of Scotland as we face a future with fewer ordained ministers."