Lodging House Mission Harvest AppealPublished 21 Sep 2020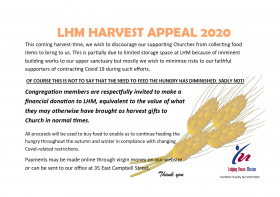 This coming harvest-time, we wish to discourage our supporting Churches from collecting food items to bring to us. This is partially due to limited storage space at LHM because of imminent building works to our upper sanctuary but mostly we wish to minimise risks to our faithful supporters of contracting Covid 19 during such efforts.
OF COURSE THIS IS NOT TO SAY THAT THE NEED TO FEED THE HUNGRY HAS DIMINISHED. SADLY NOT!
Congregation members are respectfully invited to make a financial donation to LHM, equivalent to the value of what they may otherwise have brought as harvest gifts to Church in normal times.
All proceeds will be used to buy food to enable us to continue feeding the hungry throughout the autumn and winter in compliance with changing Covid-related restrictions.
Payments may be made online through virgin money on our website or can be sent to our office at 35 East Campbell Street, Glasgow G1 5DT