Council of Christians and Jews (West of Scotland Branch)Published 16 Jun 2021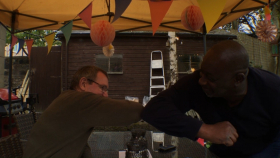 From time to time CCJ like to host what we call 'Conversations' in the Shul in Giffnock, Glasgow. While it's not actually been possible to do so in person since March 2020, last year we did invite Mary Miller to join us online to talk about her biography of Jane Haining (A Life of Love and Courage). This, in turn, has led us to consider what we might do to make the remarkable and inspiring story of Jane, as one of the 'Righteous Among the Nations', better known.
This year (and along with other events, we usually like to have two conversations each year), we've invited Jim Muotune to join us, and are hoping that this will be in person (as well as online), sometime in the autumn. As a prelude to that, one member of our executive, Rev Jerry Eve, met with Jim, in order to begin that conversation.
Filmed exactly a year after George Floyd's death, this was an opportunity for Jim to revisit some of the contributors (one of whom has since been knighted) to a BBC Radio Scotland documentary he made 14 years ago in the bicentennial year of the abolition of the transatlantic trade in slaves (Trading Truth: Slave Masters of the Clyde, 2007).
From Nigeria originally, and a practising Catholic, Jim continues to work as an independent producer of content for radio, television, and online. As someone who is passionate about the importance of interfaith dialogue, we feel the current prominence of Black Lives Matter makes this an important time for us to speak with Jim.