Christmas Appeal for the WellPublished 19 Nov 2020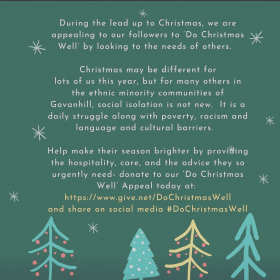 During the lead up to Christmas, we are appealing to our followers to 'Do Christmas Well' by looking to the needs of others.
Christmas may be different for lots of us this year, but for may others in the ethnic minirity communities of Govanhill, social isolation is not new. It is a daily struggle along wth poverty, racism and language and cultural barriers.
Help make their season brighter by providing the hospitality, care and the advice they so urgently need. Donate to our 'Do Christmas Well' appeal today at:
https://www.give.net/DoChristmasWell/fundraising
and share on social media #DoChristmasWell